Summer has arrived which means consumers are more prone to be travelling, spending time outdoors, and taking part in activities that divert their attention from all of the online shopping they should be doing! It's no surprise that the summer months are the slowest when it comes to e-commerce sales, dipping by as much as 30% from top sales months like December.
So what does this mean for you? It's time to get a bit creative and find different ways to drive sales during these slow months. Below, I've outlined 10 different ways that you can drive more engagement and sales revenue despite the lower level of demand during slow periods.
1. Get Seasonal!
Website design and seasonality matter when it comes to consumer behavior. Shoppers are much more inclined to engage with brands and retailers who consistently update their site to match seasons and holidays. This can be with design elements, imagery, promotions, and also with what products you showcase.
93% of consumers consider visual appearance to be the key deciding factor in a purchasing decision. Like it or not, shoppers are making purchasing decisions, at least partially, based on design so you have no excuses to keep up with the seasonal trends.
Don't want to do a complete overhaul of your website for every holiday or season? You don't need to! It's super simple to implement seasonal pop ups to your site in just a few minutes. This will help you match the holiday or season, drive shopper engagement, and convert more sales without the dreaded development time you'd normally have to go through.
Summer themed promotion from Polar Pro Filters
2. Update Product Images and Descriptions
Want something that is going to help you in the short run and the long run? Use this down time to update product images and descriptions. Freshening up your product pages with optimized product images and new product descriptions will better provide shoppers with the information they need to make a purchasing decision. The clearer your products are described and represented, the better they are going to sell.
Also, updating content will help you on the SEO front. Perform some e-commerce keyword research to identify what your ideal customers are searching for. Then get to writing! Take advantage of the downtime and take this project seriously. You'll see a significant impact. Here are some helpful tips on upgrading e-commerce product pages.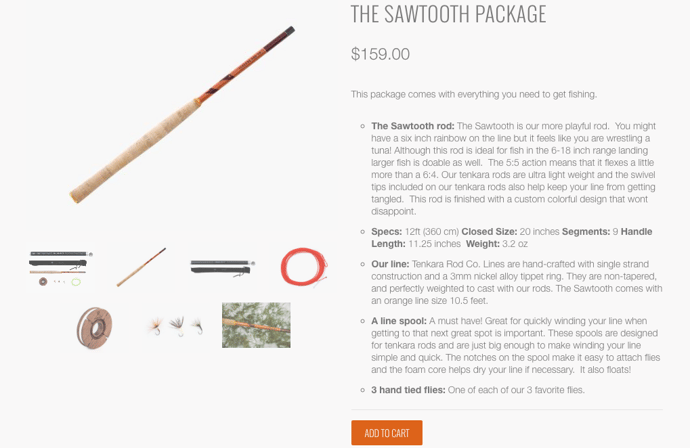 Great product imagery and description from Tenkara Rod Co.
3. Run a Contest Giveaway
There is no better way to increase traffic engagement and conversion than a contest! This is your opportunity to create excitement and use something enticing to drive traffic to your site. Offer visitors a chance to win a big ticket item or bundle by simply entering their email address. This item could be one of your products or something that your ideal customer would be interested in.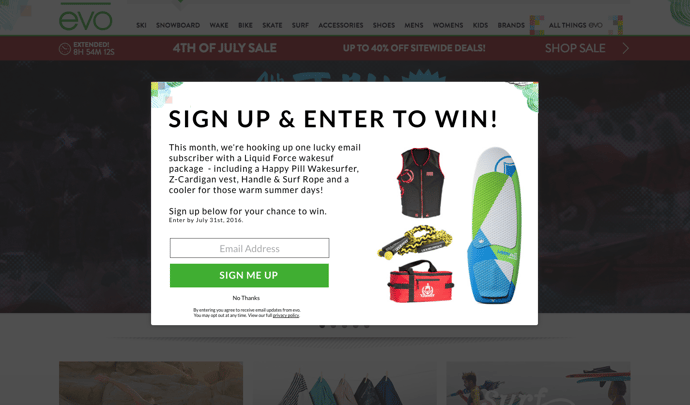 Attractive contest giveaway from evo!
Shoppers are very likely to enter for a chance to win something of high value which means that you can better convert that traffic and rapidly build your email list! A simple contest can increase email capture by as much as 660%! In addition to generating traffic, a contest will provide you with plenty of new leads to market to during busy sales months where shoppers are more likely to buy.
4. Create Product Collections
To make is easier for shoppers to find what they are looking for, or even just give certain shoppers a place to start, create specific product collections. You're essentially telling shoppers where to go on your site and making decisions on what to shop for easier. Some potential product collections are seasonal collections, a collection of similar items, buying guides, or a clearance section.
Draw attention to your product collections with emails and CTA pop ups in order to drive traffic directly to these specific pages. The entire purpose of this strategy is to provide an easier pathway for shoppers to make decisions and ultimately make a purchase.
5. Have a Sale
When sales are slow, have a sale! While many retailers are consistently running some sort of promotion on their site, this is more of a year round conversion rate optimization strategy. Running a sale requires lead time, promotion through various sales channels, and a discounting strategy.
Set some parameters for your sale. Length, discount amount, what items are sale eligible, and the goal at hand are a few things to consider. Here are a few key dates to focus your promotional sales strategy around. Other ideas are flash sales, back to school sales, and clearance sales.
6. Implement a Loyalty Program
I'm no loyalty program expert but I do know that they can be incredibly powerful in driving sales from current customers. This puts less stress on obtaining new customers during slow months and still allows you to drive sales. Our knowledgeable friends over at Sweet Tooth Rewards help retailers set up simple and effective loyalty programs so pay them a visit if you'd like to implement this sales tactic.
7. Clear out Excess Inventory
I've mentioned is a couple of times already but this can be a serious sales driver for your business. Consumers are always looking for a deal and clearance sections are a hot spot. It's also a great thing for your business. You need to move inventory. If you don't, it takes up valuable inventory space that could be better utilized for popular and fast moving products. Here are some ideas on how to clear excess inventory.
8. Create New Content
As an online retailer, content marketing can help you separate yourself from the competition by adding value to the shopping experience. Content provides more information to shoppers which can help them make a purchasing decision. Here are a few forms of content that will help you sell more:
Newsletters
How it works videos
Design and style guides
Beginner's guides
Recipe books
Buying guides
via @justuno